After visit to Jaipur & Ajmer I became more thirsty to see the other parts of Rajasthan through my naked eyes specially Jodhpur; the city of magical blue. So when I got the opportunity to celebrate the very first day of the year with those blue painted houses & the charming fort I could not missed it.
Mandor Express reached at exact time to Jodhpur on first January. As per booking I and my family checked in the hotel Ghoomar (RTDC) & begin our journey to explore the city from there. Jodhpur has a history of war, romance and valor at the border of the great Thar Desert to savor the vibrant colors of life of the second largest city of Rajasthan , Jodhpur is an apt destination. The city is also known as the Blue city due to the blue-colored houses situated in Jodhpur. Founded by Rao Jodha, the leader of the Rathore clan, in 1459 AD. The cleanest city was built to serve as the new capital of Rathore kingdom, Known as Marwar (the merchant people under this city called Marwari). Gaj Singh the recent king of Jodhpur maintaining the charm of history as before & started to modernize the city with high rises & luxurious hotels.
Must-see sights in Royal Jodhpur
The city of Jodhpur is a famous tourist destination owing to its royal heritage. Places of tourist interest in Jodhpur include clean & massive fortress, striking cenotaphs and spectacular gardens. Besides forts and palaces, the House of Mandodari also situated in Jodhpur can be a major attraction for travelers. Some of famous attractions in Jodhpur are as follows:
View the blue city from the roof of Mehrangarh Fort:-
Temple at entrance 
Small replica of fort
Fort View
One of the largest forts of Rajasthan, Mehrangarh Fort located at a height of 400 feet above the city of Jodhpur, the fort is named after the Sun deity, from where the Rathore claim descent. Mehrangarh Fort stands as the most prominent and visited monument in the city. Its vast, has a number of halls that are worth a visit and there is even a museum in there which displays showcases collections of palanquins, furniture, cannons, paintings and folk musical instruments. The Daulat Khana, a gallery of the museum houses one of the finest collections of Mughal miniature paintings. I have been the chamunda devi temple in the fort. It's a kind of must visit for anyone arriving to Jodhpur for its sheer grandeur.
The fort was not as much crowed at that time and most of the tourists were local people from Rajasthan or foreign tourists. The, stunning view of the entire city of Jodhpur from the fort was amazing, the houses painted blue, and the city palace view from the top of the fort, totally worth it!!!
Chamunda devi temple at fort
Art on roof of temple
Palace cum museum at fort
At Museum
Palanquins
Posing
Palace at fort (shooting spot of Suddha Deshi Romance movie)
Welcoming by Royal Jodhpur
Cherish the historic memories with Jaswant Thada :-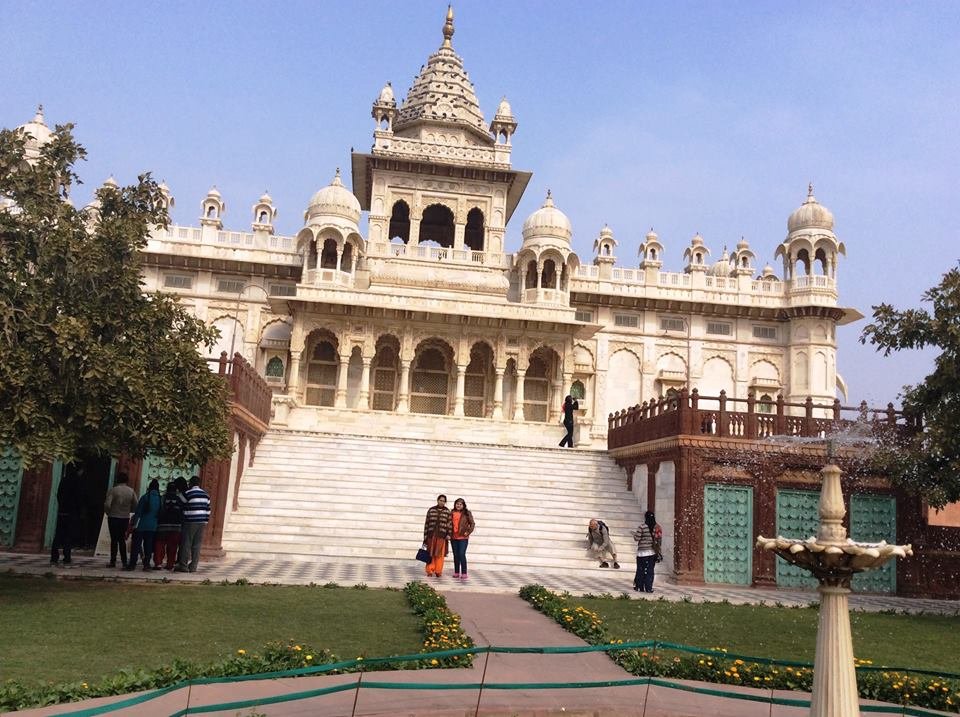 Jaswant Thada is a striking marvelous white marble cenotaph of Maharaja Jaswant Singh II. Jaswant Thada, fondly called the "Taj Mahal of Marwar "was built by Maharaja Sardar Singh to commemorate his father Maharaja Jaswant Singh II. The main cenotaph was given a shape of temple with intricately carved marble stone. This beautiful cenotaph surrounded by a calm lake called Devkund & mind relaxing garden with chirping of different kind of birds. There are many temple shaped small cenotaphs proved that royal family members slept peacefully. Worth visit place & cherish your memories once again.
Cenotaphs at Jaswant Thada
Dev kund
Posing
Mandore Garden is proved that Epic Ramayana exists:-
I found exact same at Mandore garden with charming collection of temples, cenotaphs and high rock terraces what I thought. Cool breeze was blowing like a sizzling style in the garden. For people seeking peace, there can be no better place than Mandore Garden.
Before visit Mendore Garden I was thinking that this garden is famous for its beautiful view along with 33 crores temples but after been this place I stunned to see that this place is actually the birth place or maternal home of Mandodari the wife of the eternal villain in Epic Ramayana: Dasabhatar Ravana. Everyone knows about Ramayana; war between Lord Ram & Ravana. So when I visited the palace of Mandodari & her father May Danava I really flattered.
House of Mandodari; wife of the epic villain Ravana
Umaid Bhawan Palace is pride of Royal Rajasthan :-
In my personal view among the world's largest private residences, Umaid Bhawan Palace is located at Jodhpur in Rajasthan. The palace has been divided into three wings – museum, residence of the erstwhile royal family of Gaj Singh and the heritage hotel. The palace is also known as Chittar Palace due to the extensive use of Chittar sandstone and its location on Chittar hill.
Replica of the Umaid Palace
At the night we enjoyed a short walk through the local and vibrant bazaar of Jodhpur. A shopaholic person can easily find many items like Bandhej, Mojris, Jodhpur breeches, antique items, furniture and handicrafts to fulfill their buying thirst.                                                                                                                                                                                           If you wish to visit Blue city-Jodhpur I suggest you to visit the place from November to February. The worth place to visit & must try their spicy Golgappa & if money matter not bother you then stay once at Umaid Bhawan to pamper yourself with Royal Rajasthan & their hospitality.
"I will travel.
Since my mind will not permit,
A sitting to wish dreams to visit.
I am one who would rather travel.
I choose to greet and meet my destiny."- Lawrence S. Pertillar
(Historic Reference taken from Wikipedia, google)