" Live the river". – is the motto of  The Dwijing Festival. Like first two years , this year the third edition of 12 days cultural fest held at Bodoland Area Territory District (BATD) . "Dwi " means river and "Jing" means bank of the river is rightly named of this festival as it is conducting at the Bank of Aie river behind the Hagrama Bridge to celebrate the cultural activities of Bodoland. Dwijing Festival is such annual event that gives travel junkies to explore the traditional indigenous community culture of North East India in its true form.
The Aie river (Aie means mother) is flowing from Bhutan through the Chirang and Bongaigaon districts of Assam and meets in the river Brahmaputra. The festival will attract you to its vibrant colorful programs with the assurance of taking you to a different world, where you can be the spectator of the art installations, or different activities can lure you towards the culture more and more.
I was fortunate to get the invitation from Bodoland Tourism to be a part of Bodoland Ambassadors and celebrate the third edition of the fest. I spent 7 days to learn about Bodo people and glimpse their lifestyle and culture practices.
Brief about Dwijing Festival
Bodoland, which is predominantly inhabited by the indigenous bodo people , is an autonomous territory spreading over extreme north part in Assam by the foothills of Bhutan and Arunachal Pradesh. Assam is blessed to grow with many rivers and Bodoland is one of the place which is growing at the bank of Brahmaputra , Barak and Aie river.
To promote river tourism and to provide a livelihood opportunity for local people this festival was initiated by Bodoland Territorial council (BTC). Started in 2016-17 with the name of "Aie river winter festival' later changed its name to "DWIJING festival" to showcase the river "Aie" and its importance in front of the world.
"Festivals promote diversity, they bring neighbors into dialogue, they increase creativity, they offer opportunities for civic pride, they improve our general psychological well-being. In short, they make cities better places to live." David Binder
Things to do at the Dwijing Festival
If you are an adventure junkie or an avid photographer or a foodie  or a person who loves to exchange cultures , this is just for you.
Watch the Cultural Performances
The Musical shows and cultural performances are the attractions of this festival. From different states and and different tribal communities are performing each day while sharing the stage with International and National celebritiites. This year celeb like Himesh Reshmiya , Malaika Arora , Bhumi Trivedi , Kailash Khair were performing in this festival. The bright folk dances, the fashion shows, song performances were just incredible to watch.
A Foodie's Paradise
Dwijing festival is a great place to cherish and enjoy local cuisines and traditional local fresh drink and foods. Being a bong I relished variety of fresh home made fish curries , fish gravies and sticky rice.
I also tried Sobai Jwng Daau Jwng (chicken dish), Lapah (green veggies) , Pitha (Rice cake), Pigeon fry, Onla (curry),zarwo (Silkworm Fry), Snails with Black Lentils, Goja (sweet dish), Ema Datshi (Bhutani cuisine) and many dishes…
Childhood Memories …
Chaat Paapdi
Rice Beer and Silk worm
Pigeon Fry with the special Bodo Thali ( lapah – green veg, Jute leaf curry paste, chicken)
Along with food and snacks, give your taste-buds to guzzle  a tangy flavor of Rice Beer ; the famous liquor of Bodoland.
Feel the emotions behind Art Installation
This year 2018-19 Blurred Perimeters was the theme of the art . It has shown both the plurality of cultural creativity along with expression power for rest of India. The art installation acted as an evidence of North East artists and their struggling to create an art which is vibrant, innovative, expressive and keeping good pace with trends which are dominant in the country.  These pieces of depicted their pain, agony, life, sorrow and joy.
Participate in different Activities
Hot air Balloon ride or Chopper ride is the all together different experience. Also walk on Bamboo bridge can definitely a new experience for urban chaps. If you are an adventurous soul , then a river rafting can include in your kitty.
Buy some Handmade Souvenir
Local handmade unique cloth like Dokhona is the main attraction. These are traditional wear for Bodo women. Vibrant, colorful kind of Dupatta you must try. Bamboo Beer Mugs, Bamboo basket, Bamboo back clips,bamboo bangles, bamboo decorative products are the must buy souvenir.
Accommodation Options
There are not many accommodation options in Dwijing. If you wish to stay at fair ground tent options are there. Else you can get different range of Hotels or Homestay at Bongaigaon which is the closest city from fair.
Reach at Dwijing Festival
Option 1: Fly down to Guwahati Airport , take Bus or Cab till Bongaigaon, which is 180 km from Guwahati.
Option 2: Take a direct train – at Guwahati Station (Assam). Then take a shared cab or bus till Bongaigaon.
My route: Delhi to Guwahati by air and further by private cab. The time taken from Guwahati Airport  to Bongaigaon is 180 Km . So, total duration to reach near fair location from Delhi is 9-10 hrs.
After reaching Cygnet Park Meghna hotel  in Bongaigaon with fellow ambassadors, our excitement levels were swelling while seeing Himesh Reshammiya , who was staying the same hotel .
The next few days we were living our lives like a dream. Early sunrise made us rise early and we were so exciting to visit Dwijing , the much awaited festival . Aie River was flowing beside the fairground which made the location just heavenly beautiful. The whole are seemed extra vibrant with spectacular confluence of art installations, food stalls, ethnic shops, activities, hot air balloon, chopper ride  and many more.
Document or Permit for Dwijing
A valid Passport or any other identity proof is enough to visit the festival. Also keep some photographs though Bodo Tourism is not very strict for tourists.
Weather at the Festive time
The weather of BTAD  is little cold during December -January. Day's temperature is pleasant ( Between 16-20 degree), but during the night, sometimes temperature drops to 2 to 3 degree Celsius, So carry some woolen outfit/jacket for the night and light warm cloth /full sleeves for the day.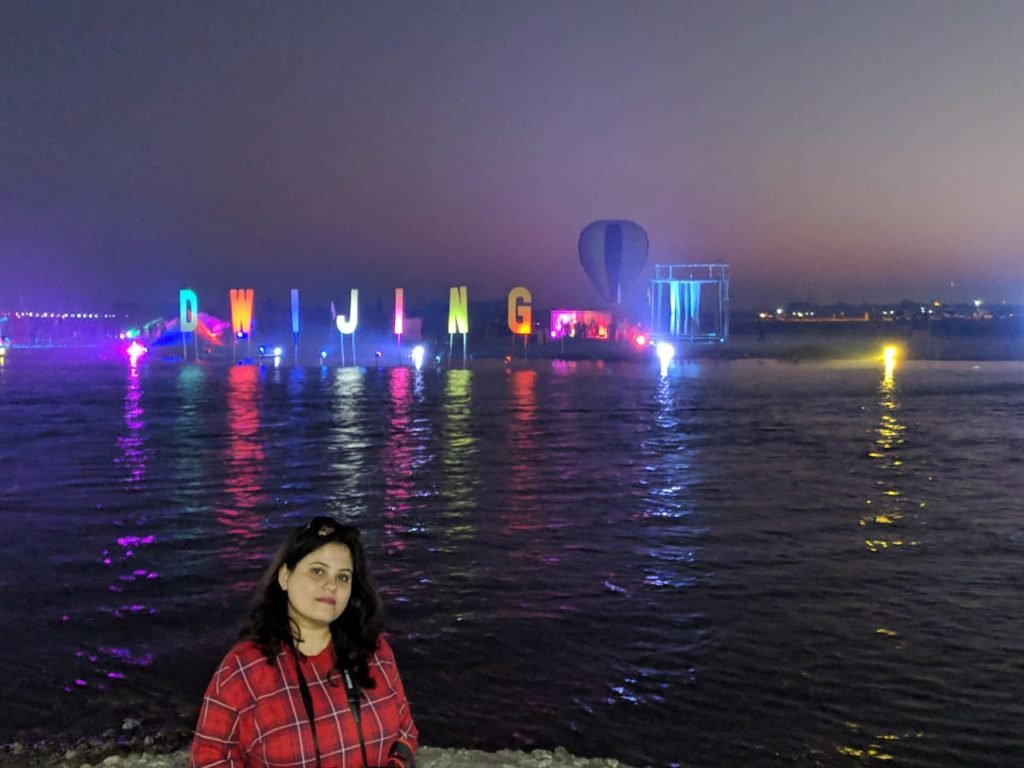 Facts about the Culture, Location and Festival
The location advantage of the state has been enriched by 121 tributaries of the Brahmaputra and 16 of Barak river

The purpose of the festival is to promote Bodoland Tourism and livelihoods for the rural villagers, support conservation, popularize Dwijing river festival, and support government's initiative to make the region a better place to live and visit.

The Aie river plays a vital role to about 30000 families for their daily livelihood through crops, fishing, etc.

During the rainy season, every year it creates massive destruction to the bank side areas and as a result lots of properties are lost .

Manas National Park, a UNESCO Natural World Heritage site, is one of the main tourist attractions of the region. Located in the Himalayan foothills, it is contiguous with the Royal Manas National Park in Bhutan.

The Hagrama bridge is 1200 meter long and the longest bridge in Bodoland.

Carry enough cash as ATM is not available or the number of ATM's are very less .

Only Jio and BSNL network are working proper.

Ask before you try any meat as they eat mongoose , snails, rat, pigeon, dry buffelo liver, silkworm. So it is always better to ask before if you are not aware of these.

Get the permission before you click anyone's  pictures.
It is Safe for Female Travelers
Before visiting the place I had some different opinion about the place as I never heard about Bodoland earlier. An as a part of North Assam I had some fear about the culture, location , food and people .
After visit the place, I am dying to visit it again. Yes, you read it right. This place is absolutely safe for female travellers. The people are extremely generous, kind and helpful. They will make you comfortable with their simple smiles and hospitality. I personally recommend the place to everyone and I am soon planning to visit a solo trip to Bodoland again.
Replica of Bodo Village at fair ground
Dwijing festival is much more than a river festival. It is a place of learning and exchanging the cultural mix. It is the place of experiencing new activities, to cherish the detox network free mode while discovering the land of back soil. The place where again I want to roam with elephants in a small village and witness the best Sunset to satisfy my visual hunger.
Come and experience Dwijing with an open heart.